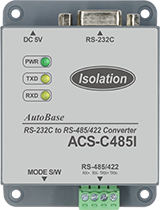 AutoBase Converter
ACS-C485I
An industrial automatic conversion converter can be connected to a variety of
communication equipment without a separate program. Also this product can be
used conveniently in industrial field because operational power is supplied through
the signal line from the RS-232C without a separate source. RS-422/485 data
collision protection is possible because it supports auto-togling.It supports
communication speeds of up to 460 kbps. RS232 extension cable is available. Also
it can be connected to an external power source to improve performance.
Especially ACS-C485I model support opto isolation function. So it is possible safe
protection from external electrical shock(overvoltage, over current). Therefore ACS-
C485I model can use in an electrically poor environment. Also it is completely
separated not only the signal, but also the power source.
*Reference Document

Support protection from external electronic shock
It protect product from external electronic shock safely. Becuase it support ±3.7KV opto-isolation function to signal line.
So it is suitable for use in electrically poor environments.
Support Broad Operating Temperature
Operation temperature is supported -40°C to 85°C. So this product safe to use.
Absorb Surge Shock
It can be protected from the abnormal voltage of the surge because this product absorb 600W surge impact.
Support Broad Communication Distance
It's easy to use depending on the situation because this product supports communication distances up to 1.2 km.
Connect with Various Devices
This product can be connected up to 10 devices. User can easy to use.
Support Auto-Togling
Auto-togling is a function that automatically controls I/O to prevent data collision. This product support auto-togling.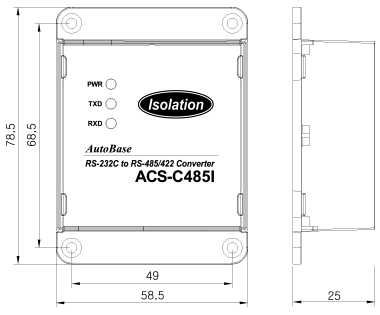 Specifications
Communication mode
Asynchronous Serial Communication
RS-485/422 mode
Point to Point, Multi-Drop
Opto Isolation
±3.7KV (Strong against external electrical shock)
Maximum communication speed
460kbps
Maximum communication distance
1.2km
(When using the 24 AWG twisted pair cable)
Connector
RS-232C : DB9 Female
RS-422/485 : Terminal Block 4 Pin
Signal line
RS-232C : TXD, RXD, RTS, DTR
RS-422 : TXD+, TXD-, RXD+, RXD-
RS-485 : TRCD+, TRXD-
Deep switch
Select RS-485/422
Terminating resistance ON/OFF(200Ω)
Signal Line pull-up/pull-down ON/OFF
Power
*No power : Supplied from RS-232C TXD, RTS,


       and DTR signals

*Power : USB Type Direct Current Power Use


       DC5V Adapter or USB Power

       (power consumption : below 5V 500mA)

       Use when power statue LED("PWR") is not

       illuminated or when need to improve performance

Static electricity protection
Contact ±8KV, Air ±15KV
Surge shock absorption
24A, 600W
Operating temperature
-40~85℃
Humidity
5~95% Noncondensing
Size(mm)
59*78.5*23
Manufacturing country
Republic of Korea
Manufacturing company
Autobase Inc.
Warranty period
1 year
KC authentication number
R-R-ABH-ACS-C485