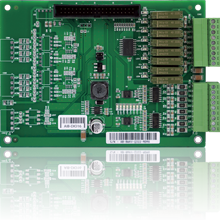 Low-cost digital 16 Ch extension I/O board
AIB-DIO16
AIB-DIO16 Extension I / O board is a low-cost product, but controls stably with the high-performance components. simple structure of AIB-DIO16 helps you can apply to your system easily and save your installation costs.
*Reference Document
AIB-DIO16 I/O board with ATS-M1000DA series touch panel
AIB I/O board is used to connect to the extension I/O port of the ATS-M1000DA Series touch panel. ATS-M1000DA series is a low-heat, low-power, 1GHz high-performance touch panel and Windows Compact 7(CE 7.0) OS is installed by default, so it is easy for software engineers to develop and deploy, using Visual Studio 2008/2004 (language C# .Net/Basic .Net/C++). Provides IOControl Class and Ats.NET libraries for Visual Studio developers and which makes it more easy to develope systems.
*View more details
Economical system configuration! Autobase SCADA CE preloaded!
SCADA Softwares are high price but ATS-M1000 Series touch panels come with Autobase SCADA CE and which can help you configure systems economically. Even if you have not Visual studio or any other database program, you can develop systems using Autobase SCADA CE for automation fields, high-tech industry, medical devices and etc.. Especially, we have developed vast amounts of communication drivers and which are offered free.
*View more details
Direct contact control-Extension I/O Board
AIB I/O baord is a ready-to-use input/output Board. Just connect a cable to ATS touch panel with AIB I/O board, without any external support device, AIB I/O board will be available immediately.
Without programming the AIB I/O board, you can control the direct contact with the program of ATS.
LED ON/OFF indicators are equipped for each digital input/output channels, so you can easily check the ON/OFF status.
Customized product manufacturing
Autobase provides customized automation solution and user-specific touch panels. For this, we adapt our products with the modifications necessary to satisfy your requirements: from minor design changes right to OEM-hardware and software systems.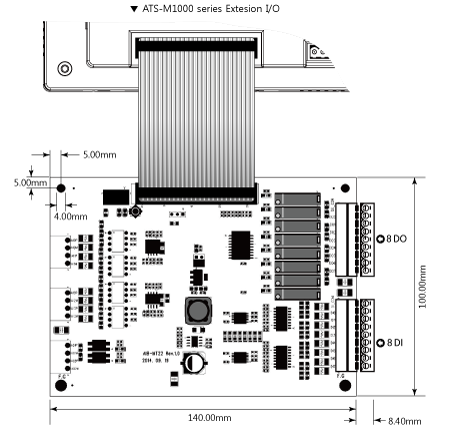 Specifications
Digital Input(DI)
8 Channel (DC 12~24V Non-polarity)
Digital Output(DO)
8 Channel (Relay output 5A 30VDC)
Analog Input(AI)
-
PWM Output(PWM)
-
Dimension(mm)
148.4(H)×100(V)×14.4(D)