ATP17-S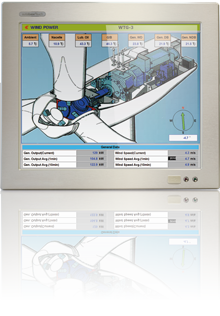 17inch 1.9GHz Dual Core Touch Panel
ATP series are low-heat, low-power, high-performance and stable touch panels. It's aluminium front and metal case are luxurious and durable. Autobase SCADA Software has been pre-installed. So you can save the system configuration cost. And ATP Touch panels support a variety of ports and has excellent scalability.
Autobase SCADA software installed
ATP touch panels come with Autobase SCADA and which can help you configure systems economically
It is easy to reuse project and that helps developers to save their valuable time and efforts.
Low-power, low-heat, stable performance
This product is a low-heat, low-power, simple maintenance, suitable for the system to put priority on stability.
High-end Aluminium front and metal case has good heat dissipation and excellent durability

Specifications
Display
17 inch SXGA(1280*1024)
CPU
Intel ATOM E3845
Dual Core 1.9 GHz
Touch Controller
PenMount USB Controller
Mainboard

Intel ICH8M chipset, ATOM Compatible

Memory

4GB DDR3L(1066Mhz/PC8500)

Storage
SSD 120GB
(Max Read:500MB/s, Write:400MB/s)
Graphic Controller
Intel HD Controller
VGA
VGA 1 port, DVI 1 port, Display Port 1 Port
Ethernet
Dual Gigabit Ethernet (10/100/1000Mbits/s)
LAN 2 Ports
Serial Port
RS-232C 2 Ports
USB
USB 2.0 2 Ports, USB 3.0 1 Port
Keyboard/Mouse

USB type

CD-ROM
-
OS

Windows Embeded Standard 7

Utility
EWF(OS Protection),
Recovery(The factory state recovery) Software
Input Power

DC 12V

Power Consumption
43W~55W
Waterproof

X

Option
SSD 250GB
Upgrade SSD 120GB with SSD 250GB
HDD 500GB
Replace SSD 120GB with HDD 500GB
( SATA2 / 7200 rpm / 16M )
LCD Stand
PS-20S(Prime Direct)