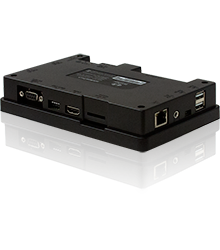 1GHz Dual Core Embedded Computer
ATS-M1000DA7H
ATS-M1000DA7H is a low-heat, low-power, lightweight compact type Windows CE embedded computer using HDMI port. Despite of pre-installed Autobase SCADA CE and the high performance of 1 GHz Dual Core CPU, its price is very attractive.
*Reference Document
Ease of development-Windows CE embedded computer
Windows Compact 7(CE 7.0) OS is installed by default, so it is easy for software engineers to develop and deploy, using Visual Studio 2008/2004 (language C# .Net/Basic .Net/C++).
*View more details
Economical system configuration! Autobase SCADA CE preloaded!
SCADA Softwares are high price but ATS-M1000 Series come with Autobase SCADA CE and which can help you configure systems economically. Even if you have not Visual studio or any other database program, you can develop systems using Autobase SCADA CE for automation fields, high-tech industry, medical devices and etc.. Especially, we have developed vast amounts of communication drivers and which are offered free.
*View more details
High-performance 1GHz Dual Core CPU
The ARM® Cortex®-A9 processor is the power-efficient and popular high performance choice in low power or thermally constrained cost-sensitive devices.
Robust and slim design
Ultra-thin and modern appearance is easy to mount and more robust.
It has excellent durability.

Customized product manufacturing
Autobase provides customized automation solution and user-specific touch panels. For this, we adapt our products with the modifications necessary to satisfy your requirements: from minor design changes right to OEM-hardware and software systems.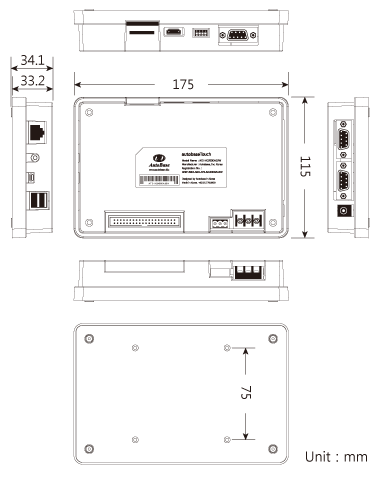 Specifications
CPU
Cortex-A9 Dual 1,000MHz
Memory
DRAM 512MB DDR3, NAND Flash 512MB
(Option : DRAM 1GB DDR3, NAND Flash 1GB)
Serial Port
4 Ports (RS-232C 3 Ports, RS-485/232C 1 Port)
USB
USB Host 2 Ports, USB Device 1 Port
HDMI
1 Port
Extension Port
GPIO(16EA), PWM(2ch), A/D Converter(4ch)
Audio
Speaker, Audio Out(Stereo Earphone Jack)
Ethernet
1 Port (Gigabit)
SD Card
1 Slot(SDHC up to 32GB, SDXC up to 2TB)
Voltage
DC 9~24V
Power consumption
5W
Dimension(mm)
175(H)*115(V)*34.1(D)
Operating Temperature
-10~70˚C
OS
Windows Compact 7 (CE7)